Meinhardt's charity rugby event raises £3000 to tackle homelessness
The Meinhardt London office was delighted to host their first major charity event last week. On Thursday 27th October Meinhardt UK held their inaugural charity touch rugby tournament, raising funds for Homeless Rugby CIC, a charitable organisation that aims to combat homelessness through sport. The idea for the event originated from our Structural Director, Patrick Hayes, who has been a director of the charity since its inception.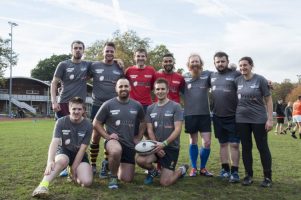 Eight different teams entered the tournament, made up of seven London-based firms within the construction industry including Meinhardt, and one team representing the charity itself. The Homeless Rugby team included the charity's founder, Darran Martin, director Nadia Lipsey, the education manager of Worcester Warriors Dave Rogers, and players from the Warriors YMCA Homeless Rugby team.
Each corporate firm involved made a donation to enter their team into the tournament. Card Geotechnics Ltd (CGL), JRL Group, Galliard Homes and Conrad Consulting acted as sponsors, making generous donations to the cause.
A total of 18 ten-minute touch rugby matches were played in the tournament that took place at the Millennium Stadium in Battersea Park. Some teams surprised with hidden talent, some had never played the game before, but all threw themselves whole-heartedly into the event. The tournament culminated in two finals, one for the Plate and one for the Cup. Triumphing over architects John McAslan & Partners to win the plate was Rise, a battle hard-won going to extra time. The cup final was between Meinhardt's own team and Tower Eight. The match was nail-bitingly close with a nil-nil draw throughout until Tower Eight scored a fantastic touch-down seconds before the whistle blew.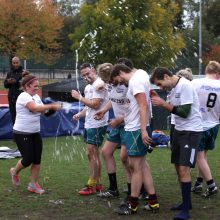 All teams cleaned off the mud (or champagne spray if they were Tower Eight) and headed to the Duchess pub, Battersea, for a well-earned buffet dinner and drinks. On arrival, the guests heard how their donations made a difference from Darran, founder of Homeless Rugby. 'Homeless Rugby was set up to support people affected by homelessness and build lives through being involved with rugby and its community' Darran explained. By providing opportunities to train and play rugby, the charity has empowered individuals to realise their full potential, improving their health, communication skills and self-esteem, as well as encouraging them to engage more effectively with wider support services related to education and employment. Meinhardt had arranged a raffle to garner further funds for the charity, with prizes on offer such as Autumn Internationals tickets to the England-Argentina game, Harlequins tickets, a Fortnum & Mason hamper and more. Following the official prize-giving for the tournament, the raffle was drawn and prizes joyfully snatched up. After a final call for last minute donations, a giant cheque was awarded to Darran Martin for Homeless Rugby – a grand total of £3001 raised for the charity.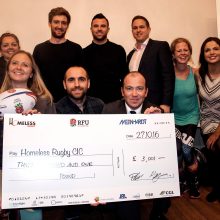 Darran was delighted. "The day was a resounding success with great rugby being played, new friendships being made and a massive amount raised to help support new and existing Homeless Rugby teams" he said. "The event, including all the sponsors and teams who came to play embodied everything we have been working towards, and have made it possible for us to continue to #TackleHomelessness. Thank you everyone who helped make this amazing day a reality!"
We were thrilled with the success of the event and the money raised. Two teams have already asked to sign up for next year, so it looks like the event is set to be an annual fixture in the Meinhardt calendar. We can't wait!
Huge thanks to our sponsors:
JRL Group (Contractors)
Conrad Consulting (recruitment agency for Civil/Structural sector)
Galliard Homes (Property Developers)
Card Geotechnics Ltd (Geotechnical/Geo-environmental consultancy)
The Teams:
Meinhardt (UK) Ltd (engineering design consultancy)
Homeless Rugby/Warriors Community Foundation
Tower Eight (Project and Cost Management Consultancy)
John McAslan & Partners (Architects)
Rise (Management consultancy)
GVA Second London Wall (Project Managers)
Quartz (Project Managers, Cost Consultants, Surveyors)
Galliard Homes (Property Developers)
The Prize-winners:
Cup: Tower Eight
Plate: Rise
Sportsmanship: John McAslan & Partners
Player of the Tournament: Oliver Wiseman (Tower Eight)
Champagne Moment: Sean Byrne (Second London Wall)