Meinhardt UK engineers state of the art academy
Meinhardt UK has been appointed by main contractor Willmott Dixon to provide civil and structural engineering services for a new building to replace the existing Hertswood Academy in Borehamwood, Hertfordshire.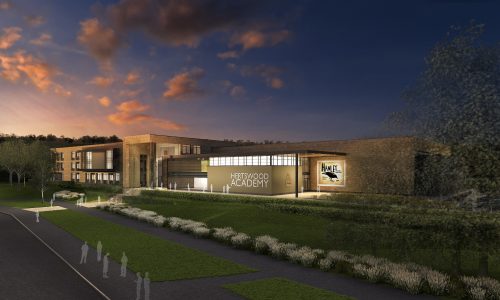 The existing buildings, dating from the 1950s and 1960s, are spread across two sites (10 minutes' walk apart) and have reached the end of their design life. The proposal is to amalgamate these onto a single plot of land from one of the existing sites to create a leading edge educational environment for the students.
Due to be completed in 2018, the new structure will comprise a large three-storey building featuring a library and extensive community facilities, including a theatre and sports centre.
The academy, which has performed above average in the last few years, making steady progress in the league tables, will be able to accommodate 1,450 students once the new building is completed.
Further new additions will include cutting-edge ICT, expansive open learning spaces and a superb new refectory built around a quadrangle containing a sensory garden. In addition to a community use theatre and large sports hall.
The proposed design features structural steelwork with masonry infill panels for robustness.
Patrick Hayes, a Director at Meinhardt UK, comments: "It is great to be able to work on a project that will help to bring significant benefits to the academy in terms of running costs and maintenance, as well as enabling additional teaching time due to all the educational facilities being located on a single site."
The Meinhardt UK team is not only providing civil and structural services but also assisting to promote engineering in education in conjunction with Willmott Dixon, who pride themselves on encouraging apprenticeships and engineering courses for the next generation of designers and specialists who may work on-site in the future.
Bond Bryan are the architects working on this scheme alongside Imtech, who are providing mechanical and electrical services to the project.