Meinhardt's soccer success!
On Sunday the 7th February, some of our youngest (and fittest) Meinhardt staff members took part in a 5-a-side football tournament set up for engineering and architecture companies. The event was arranged by structural engineering firm Thornton Tomasetti and Grimshaw Architects as a fundraiser for their joint outreach project.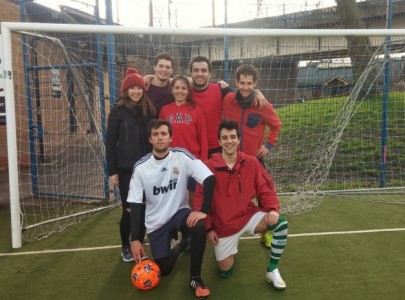 The two firms have partnered up for a Bridges to Prosperity project in Rwanda, where their aim is to build a 38m suspended footbridge that will enable locals to have safe access to education, healthcare and economic opportunities, particularly during flood season when the river is impassable. To show support for their charitable venture, Meinhardt entered a team helmed by Mariana Antunes, Tarik Hamza and Alessandro Massarotto. Our Building Services intern Meghan Grogan was also there on the side-lines to cheer on the team. As relatively new additions to the company, it was great to see them get stuck in!
Meinhardt had a shaky start and lost their first match. However, thanks to some excellent goal-scoring by Tarik, the team then won their next two games to reach the final where they were faced with their first round adversaries once again. This time the game was very tight with 3 goals apiece until, in the dying moments of the game, Tarik scored the decider leading Meinhardt to victory!
After this triumph, Meinhardt are keen to participate in more sporting events in the future – we think it's a great opportunity to network within the industry, raise money for charity, and as our structural engineer Ali Baky put it, "it's yet another way for us to show that Meinhardt is the best – when we win of course."