Shoreditch Hotel Scheme Gets Go-ahead
Meinhardt UK is proud to be part of the design team that has recently achieved resolution to grant planning consent for 201-207 Shoreditch High Street. The plans for the site, put forward by hotel giant Highgate Holdings and designed by architect Gensler, comprise a 200-key Highgate hotel, 12,000 square metres of commercial office space, and extensive retail areas at ground floor.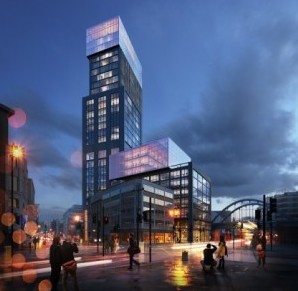 Clad in a combination of glass, black steel and exposed concrete, the materials and design of the building will reflect the nature of Shoreditch and its industrial history. The structure will appear as a stack of boxes, with each block programmed for a different use. Three special feature public areas will be distributed at different levels: the 'Market' retail area at ground floor, so-called due to its fluid pedestrian access; a 3-storey co-workers' shared area named the 'Shed' for office-related activities and events; and the 'Sky Lounge' at top floor accommodating events space with panoramic views. These areas will be fully glazed, providing a contrast from the rest of the main building.
The landmark development aims to transform the current unsightly and under-utilised site and revitalise the neighbourhood culturally and economically, creating 100 construction jobs and 804 new jobs for the local area.
Meinhardt plays a significant role in the project, providing MEP design for planning, utility studies, Energy Strategy, BREEAM pre-assessment, vertical transport advice and Façade design including extensive thermal studies.
The Highgate Shoreditch Hotel is projected to complete in 2018.